"I do not believe that I will ever reach a stage
when I will say,"This is what I believe. Finished."
What I believe is alive... and open to growth"
- Madeleine L'Engle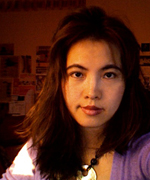 JANET SI-MING LEE
:: Designer :: Artist ::

Janet Si-Ming Lee — An Aquarius by birth, and honored as a Dragon by the Chinese zodiac, Janet is a philosophical artist. She meditates on life's themes through digital and mixed-media fine arts, and interactive design. As a Chinese-American artist, she's particularly fascinated with creating art and cyberdesigns that synthesize philosophy, poetry, and Chinese inspirations to create bicultural visual dialogues. Intrigued by the concept that characters are illustrations with a potential for multiple interpretations, she seeks to abstract art from art itself.
Although, her birthplace is Brookline, MA, she grew up in Newton, MA. She is a first-generation Chinese-American with four younger siblings Annie, Jenny, Steven and John. A philosopher at heart, she is often most happy musing with friends on the structure of time and the universe, psychology, religion, spirituality, the human experience and their implications on the interpretation of reality. In fact, some of the influential philosophers and writers whose work she enjoys reading include Alan Lightman (Einstein's Dreams), David Hume, Oscar Wilde (Portrait of Dorian Gray), Stephen Hawkins (A Brief History of Time) and Jean-Paul Sartre (Literature & Existentialism). In terms of her stance on the Free Will debate, Janet is a "compatibilist" or "soft determinist."
In 1998, Janet was the first to receive a Bachelor of Arts degree with Honors in Multimedia Arts (a self-designed major) from Wellesley College. Her senior thesis project was a multimedia publication entitled Si-Ming: Field of the Heart that was aired on television in the Spring of 2001. The Asian Spectrum interviewed Janet in her first appearance on television and aired her multimedia project Si-Ming: Field of the Heart to Cantonese-speaking Chinese in the Boston and Malden areas. In this project, she synthesizes digital fine arts, creative writing, philosophy, and Chinese studies to compose a series of animated poetry written in Chinese and English. Inspired by Amy Tan's Joy Luck Club, her work aspires to create a cross-generational visual dialogue between her mother and herself. She examines the interaction of multi-languages using technology in her study of the significance of her Chinese name "Si-Ming."
"Si-Ming" is Janet's Chinese name chosen by her mom. Typically, mothers select Chinese names that express traits that they want their children to have. Her name "Si-Ming" is made up of two main characters essentially. The first character "Si" is comprised of the characters for "field" and "heart" and the second character "Ming" is comprised of the characters for "sun" and "moon." The literal translation of the name "Si-Ming" is "contemplating brilliantly / enlightenment."
Currently, Janet is working as a freelance professional web designer in the Boston area for her independent design studio Siming Cybercreative. Janet's clients include: MKA (Madsen, Kneppers & Associates), ZipGlobal, Charney Research, MIT Sloan School of Management, OPTAx, Wellesley Centers for Research on Women, Charney Research, Kamak International / Hong Kong Study USA, International Society, Asian Task Force Against Domestic Violence, Company One theatre, and Chinese Culture Connection. Check out her online art / design portfolio to review some of the projects on which she worked. Previously, Janet worked for two years as a full-time professional web designer at Extraprise, an e-services consulting company. At Extraprise, she was the creative lead on a website project for client Emerson & Cuming that was selected as a Finalist in the Manufacturing category for the prestigious 2001 MIMC (Massachusetts Interactive Media Council) Award. As as a digital fine artist, Janet exhibited her artwork and multimedia projects at the Boston Cyberarts Festival '01 and at the SIGGRAPH '98. Her artwork is also featured on Expressions, a non-profit educational website that exhibits creative work by international writers and artists.
Janet is also the Founder and President of WAAM (Wellesley Alumnae and Affiliates in Multimedia), an organization of Wellesley and MIT alumni and other enterprising individuals dedicated to project collaboration and independent experimentation in multimedia, mixed-media, hi-tech and creative disciplines. She organizes creative and technical training workshops, coffee shop and dinner discussions with guest presenters, digital arts exhibitions, and events centered around community service creative projects. Previously, Janet has been interviewed for the local public Cambridge T.V. show "High Tech Fever" hosted by MIT Sloan "Developmental Entrepreneurship" course instructor and HowToons Founder Joost Bonsen that seeks to feature local inspiring entrepreneurs. At her live interview, Janet spoke about her organization WAAM and her freelance design work assisting non-profits and startups develop a creative integrated brand strategy.
In addition, she enjoys arts and crafts, biking along the Charles River, taking long walks at night in a spiraling city unraveling, creative writing, idea-shaping, organizing small socials and potlucks with friends, attending local workshops and educational lectures.
< About Siming Cybercreative >
< Résumé >
< Writing Samples >
< My Blog: Siming Moments >